SOTA Instruments Relaxation and Wellness Kit
Relaxation and wellness kit by SOTA contains the Magnetic Pulser, Silver Pulser and Water Ozonator as well as the Bio Tuner.
The easy to use kit will serve you for years, providing relaxation and enjoyment, because you certainly deserve to be pampered.
Take advantage of the compliment of micro pulsing with the SP7, secondly you can enjoy making your own ionic silver.
Enjoy the fresh taste of ozone that will remind you of the beautiful outdoor fragrance of nature.
Sota equals quality products that you can trust.
Consequently all machines come with a warranty of 2 or 3 years per product.
We offer the same warranty as SOTA in Canada.
Image of the SOTA Wellness and Relaxation Kit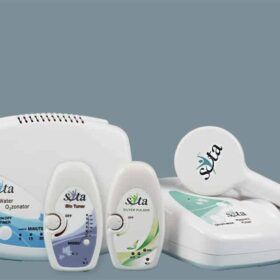 SOTA Relaxation and Wellness Kit includes:
Other kits available from SOTA: