The Silver Pulser SP7 by SOTA Instruments.
FREE DELIVERY to the UK
SOTA Silver Pulser SP7 comes with all accessories included.

What the Silver Pulser does
The Silver Pulser has two functions, it delivers beneficial micro currents to the body as well as making Colloidal Silver.
Silver Pulser Micro Pulsing
Complementing your own natural electrical fields, micro pulsing for more energy as well as elevated general health and well being.
The Silver Pulser offers a simple way to deliver the micro currents to your body. Place the two electrodes over your two pulse points on your wrist and switch on the machine.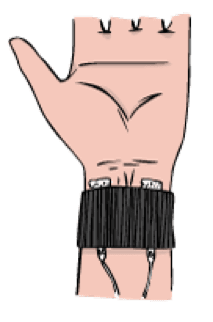 A Demonstration Video on Micro pulsing with the SOTA Silver Pulser SP7
A Demonstration Video on making Ionic Colloidal Silver with the Silver Pulser SP7
The Silver Pulser is housed in an attractive new custom plastic housing. it has a built-in compartment for the 9 Volt battery.
The power adapter is a cost effective way to power the machine whilst making ionic colloidal silver. BUY POWER ADAPTER
Silver Pulser is available in various SOTA Kits
Cautions
Do not use in the following situations as safety has not been explored:
In the case of pregnancy, nursing or trying to get pregnant
With a pacemaker or other active implanted device
With metal implants
With Neuropathy or other nerve-ending related issues
SPECIAL NOTE: Whilst it may seem cheaper to buy from SOTA direct, this is usually not the case, as you will be subject to the following charges:
Import Duty
VAT on entering the country
High courier costs from Hong Kong or Canada
Your contract will also be with Canada for repairs etc. When buying from Cytodoc, your contract will be with us in the UK. All repairs and exchanges are carried out here at our offices therefore, delays are not common, we'll reunite you with your machine in super quick time!
Reviews for the Silver Pulser
"Your products have been a life and mind saver! After years, and I mean yyyyyyears, the future is so bright. Needless to say, I am one happy camper and have told umpteen people about my results and your product. Thanks for my "Electric Miracle!"

DB, Kentucky, USA
In the year 2000 I purchased my first unit, the Silver Pulser with the Belt Clip. Over the years I continued to purchase all the products and update them as new versions are released. The results from using these products have been amazing. My love and gratitude goes out to all you wonderful people on the SOTA Team.
R, British Columbia, Canada
"Love love love mine, I have two of them and may get another one. Helps so much with energy and well, other things."
SD. California, USA
"I make the Silver on a regular basis for family and friends … I enjoy the sharing of good health immensely. My gratefulness to all of you at SOTA is beyond words except to say keep up the good work and thanks so much."
RT. Minnesota, USA
"Thanks SOTA for being there for me in my time of need. I feel lucky to have found your products. A friend told me I just had to try the technology for myself. What did I have to lose but a few hundred bucks? I had already spent a lot more than that on other things that didn't really work. Now, I tell everyone about my Silver Pulser. I never want to be without it! I am sincerely thankful for your remarkable products. Without them I truly would be at a loss."
JB. Quebec, Canada
My parents say how much better they feel with the Silver Pulser I bought for them. You guys have outstanding products.

A.K. Saskatchewan, Canada
"After watching me … a lot of the guys I work with have invested in a Silver Pulser … and most have noticed more energy too."
DB. British Columbia, Canada
It is the most wonderful thing, the Silver Pulser! I have had very good results. I am 91 years old and bought the Silver Pulser almost twenty years ago… the SOTA machine is on my list of natural things I recommend.

GH. California, USA
I took Ionic~Colloidal Silver twice a day, once when I woke up in the morning and once before I went to sleep. After seven days, I began noticing a major difference. I don't know how it works but it does and that's why I will continue to drink Colloidal Silver. Thank you for providing a product that works!

MB. Ontario, Canada
"I wear the Silver Pulser every day for a couple of hours, drink a small amount of Ionic~Colloidal Silver, and drink scads of water. It's making me feel so much better. I have a new life today because I found a way to help my own body. There's been nothing for over 30 years that's made me feel like I'm taking back my life until I started using this. I feel clearer, more energetic because of the Silver Pulser and Magnetic Pulser."

WLB. Washington, USA
"Bhakti, my canary, developed bumpy skin around his eyes and also had brittle nails and scaly legs. So, I started putting Ionic Colloidal Silver in both his drinking and bath water. It worked great! In about 2 months, Bhakti's nails were no longer brittle, his legs were less scaly and the bumpy skin around his eyes was smooth."

JS. California, USA
I have been using my Silver Pulser … what a difference it made in my energy. Appreciate the wonderful service you people give. These machines are wonderful.
SG. Saskatchewan, Canada
Thanks to you people, I am enjoying life again.
CN. Louisiana, USA
For more information on the Silver Pulser see the SOTA web page