Sota Magnetic Pulser MP6
FREE DELIVERY to the UK
We are currently out of stock until May, you can still place your order to ensure delivery for May. Thank you
What is the Magnetic Pulser?
SOTA magnetic Pulser pulses Magnetic fields to generate micro-currents of electricity that function with the body's normal electricity for wellbeing and general health.
Modes
The current model offers two modes – Regular and Fast. The charge is automatically released through the Hand Paddle which has the polarity marked on it. The automatic timer switches the unit off after approximately 20-30 minutes. This unit also features a long-life capacitor.
What the Magnetic Pulser is designed to do
The machine offers localised pulsed magnetic fields. These magnetic fields create temporary micro currents of electricity in the area of localised focus where the Pulser is placed (please also note safety instructions). These micro currents work with the body's natural electricity for well-being and general health.
A Wellness Lifestyle takes an integrated approach to living life in a way that supports abundant health that considers the entire person and all of the internal and external factors affecting each person.
Holistic health or wellness is an approach to life. It is living in ways that emphasises the interconnected nature of the mind, body, and spirit and may include chemical, mechanical, mental, emotional, energetic, spiritual, as well as electrical.
All living things are electrical in nature. We view the SOTA Products as a way of working with the body's natural electricity or energy, thereby contributing to and supporting holistic health or wellness.
This is much the same as to how eating a varied, colourful diet with good nutritious foods, movement and exercise, rest and better sleep, meditating and journaling, all help to contribute towards the nourishment of the body and mind, and therefore support a healthier and better lifestyle.
Sota Magnetic Pulser demonstration Video
How do I use the Magnetic Pulser?
For more detailed instructions, watch the demonstration Video (above)
or read The SOTA Products User Guide and The Product Manual.
Hold the Hand Paddle (see image below) over any area of the body requiring attention.
It can be used over clothing and you do not have to remove items of clothing to use the Machine. This is because the pulsed magnetic field that the MP6 creates penetrates material.
In the Regular Mode, the magnetic field is measured to 9 inches / 23 cm.
In the Fast Mode, the magnetic field is measured to 7 inches / 18 cm.
One Cycle before the Magnetic Pulser automatically switches off is approximately 20 – 30 minutes.
Read the SOTA Products User Guide and the Product Manual, and watch the video first
Sota Magnetic Pulser Video
How the Magnetic Pulser works
The pulsed magnetic field creates a flow of electrons. The Hand Paddle of the Magnetic Pulser PEMF machine can be held over any area to generate micro currents. It penetrates through clothing so it can be used while fully clothed.
Bio-North Magnetic Pole Polarity (-) or South-Seeking is clearly identified on one side of the pulsing coil. This gives the user the choice of applying either Bio-North (-) or Bio-South (+) pole energy to the site.
The machine is also known as a pulsed magnetic field generator. professionally designed, thoroughly tested and guaranteed to operate as per the specifications.
Through the principle of induction, this magnetic field creates tiny electrical micro-currents in living organic materials that contain an electrolyte such as saline. The Pulser requires no direct physical contact, however the effect is increased by direct contact.
The MP6 operates under a different principle than products using permanent magnets that have a steady, unchanging magnetic field. The Magnetic Pulser is part of highly acclaimed basic wellness kit that also includes our Silver Pulser and Water Ozonator.
The Magnetic Pulser is not designed to affect the entire body at one time, instead the round applicator coil is used to target specific local areas of the body.
What do I receive when I order the Magnetic Pulser?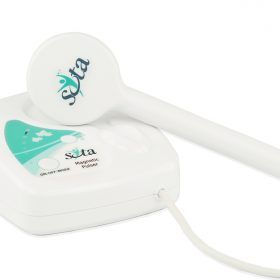 1 x Magnetic Pulser
1 x Wall Adaptor – please specific the type of adaptor required when placing your order (eg UK, Non-EU).
1 x Protective box
1 x Product Manual
Product Manual
Each SOTA unit comes with a manual that explains how to use the unit. We highly recommend that you read this before you switch on the Magnetic Pulser and watch the video as this will answer most of your questions. Should you have any more questions or you would like further clarity then please call Cytodoc on 01299 271836. We are here for you.
A selection of translated manuals as well as manuals for Earlier Models are available for download on the Manuals & Videos page.
https://www.sota.com/default.aspx?page=Magnetic-Pulser-Manual-MP6
Can I use the Magnetic Pulser with other SOTA products?
Yes. The Magnetic Pulser MP6 Model is available in 3 different Wellness kits as follows: –
SOTA Basic Wellness Kit containing 3 x SOTA products
1 x Silver Pulser SP7, 1 x MP6 and 1 x Water Ozonator WOZ5
SOTA Basic Wellness Kit containing 3 x SOTA products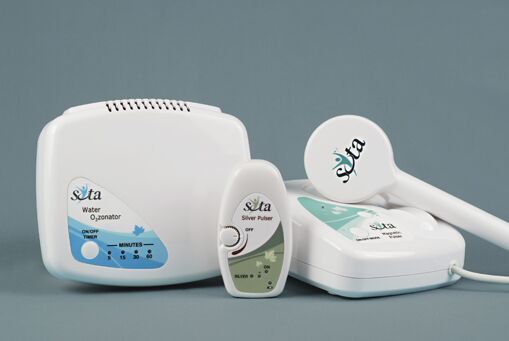 1 x MP6 ,1 x Silver Pulser SP7, and 1 x Water Ozonator WOZ5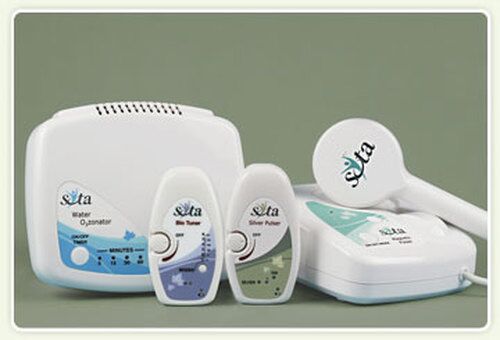 SOTA Wellness and Relaxation Kit consisting of 4 x SOTA products, accessories are included.
1 x Silver Pulser SP7, 1 x MP6, 1 x Water Ozonator WOZ5 and 1 x Bio Tuner BT9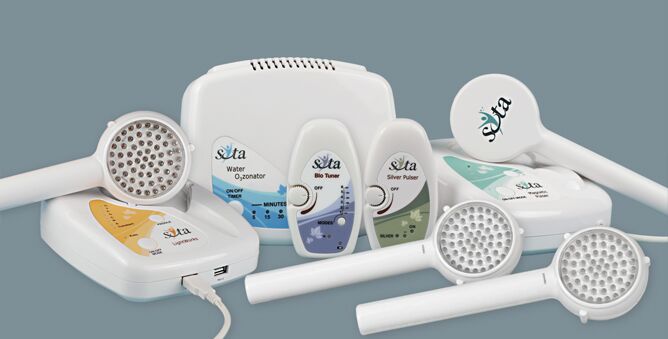 SOTA Premium Wellness kit containing 6 x SOTA products, accessories are included.
1 x Silver Pulser SP7, 1 x Water Ozonator WOZ5, 1 x Magnetic Pulser MP6 and 1 x Bio Tuner BT9, 1 x Lightworks 2 and set of 2 extra hand paddles.
Safety Instructions – Please read BEFORE using the Magnetic Pulser
Do Not Use when…
Do not use with a pacemaker. Please obtain the permission of your medical professional (Doctor) before using if you have a pacemaker as it may be safe to use below the waist.
Do not use in the following cases (safety not yet confirmed):-
During pregnancy
On areas of the body where you have an implanted item such as a metal shunt etc
Where there are areas of external or internal bleeding wounds, including during menstruation.
Around the area of a metal implant. Metals may absorb heat, and therefore could cause discomfort or a burn. Metal dental fillings are rarely affected.
As with any electrical products, never use near or in water. When you are driving a car or any motorised vehicle, or when you are operating heavy equipment.
CAUTIONS – please read before using the Magnetic Pulser
Pain on Using the Magnetic Pulser
Please immediately stop using the Magnetic Pulser on the area of pain should you feel nerve pain or an increase in nerve pain when you are using the unit.
Skin Lotions
Do not use heat-producing or heat-sensitive lotions, ointments, creams or medications when using the Magnetic Pulser as a skin burn may take place.
Airflow around the Magnetic Pulser when in use
Always check that there is good airflow around the head of the paddle when you're using it and any time you move the hand paddle to another area on the body during its use. During use, the Hand Paddle will become very warm to hot. If the hand paddle feels uncomfortable, you must turn the unit OFF immediately and allow the hand paddle to cool before beginning use again to avoid a skin burn.
When using the Magnetic Pulser
Before you switch on the Magnetic Pulser. To prevent damage or loss of information (because the Magnetic Pulser uses pulsed magnetic fields) please be seated away from personal items such as debit/credit cards, security cards, video tapes, audio tapes, homeopathic solutions, computer discs, hearing aids, mobile telephones, answering machines and homeopathic remedies.
There is the possibility for rare reactions that cannot be seen in advance although the technology for the Magnetic Pulser is generally considered safe. Therefore, your use of the SOTA Product range constitutes your agreement that you are wholly responsible for your decision to use any of the SOTA products.
Sota Instruments Magnetic Pulser on animals
Pet owners especially appreciate the magnetic pulser's non-invasive applicator.
There is never any sensation or electrical shock when using the magnetic pulser.
SOTA Magnetic Pulser reviews
As a Berkeley trained and lifelong electrical engineer and developer, I can testify (and, for the record, I have no affiliation of any sort with them) that this SOTA device is, without question, the most cost/effective solution available for delivering high/energy [pulsed magnetic fields] to specifically/targeted body regions. I am difficult to impress, yet I am impressed by this device. I just purchased a second unit so that I can have one at both of my locations.

Steve Gibson, California, USA
"I'm 75, and in great shape, for 75. The SOTA Magnetic Pulser acts in minutes to relieve things affecting my health in the areas of wellness you get into with aging. The Magnetic Pulser is so relaxing after so much discomfort, it's amazing. And the effects last and last. So easy to use, too. I truly appreciate this device. Thanks so much for making it available to me and the world."
Robert L., Washington, USA
Amazon Reviews
"Did not expect this machine to help us so much. Worth every penny."
Verified Amazon Customer Jennie H., USA
"Truly a Godsend. It simply works. Best thing ever."
Verified Amazon Customer Pam H., USA
"I had the chance to borrow a SOTA to try it out and after the first day, I knew I wanted my own… a great investment for personal health care…"
Verified Amazon Customer, USA
"Products like these are the future. This product is worth its weight in gold. It is BY FAR the best bang for your buck in the industry."
Amazon Customer Heirnich S., USA
"I have 13 different magnetic pulsers but this one is far more effective than others even if many others are much expensive than SOTA pulser! This one is the best and most effective on the market!"
Amazon Customer Mirko B., USA
——————————————————————
"We have been using a Magnetic Pulser for more than 10 years with excellent results. Thanks so much for your technology."
Alicia S. V., Villa Coyoacan, Mexico
"I've been using the SOTA Magnetic Pulser daily for 6 months, and consider it a critical asset in my recovery – from a serious car accident and from everyday training and racing. I use it on specific areas as needed, and also for support and routine wellness anytime. I am thankful to have such a wonderful product to help me and I look forward to many more years of racing!"
Brian E., Thailand
"Having found the Magnetic Pulser, is like manna from heaven."
GJ H., Texas, USA
When I started using the Magnetic Pulser, not only was it a game changer, it was miraculous.
L. Millett, Utah, USA
"We LOVE our Magnetic Pulser. It is a wonderful machine and we are so grateful to have access to something natural that works. Thank you for this amazing blessing!"
Laurel K., Utah, USA
"The Magnetic Pulser changed my life."
Suresh Thennarangam, Australia
"The Magnetic Pulser is like Magic! I use it all over – it really works. Thank you for having such a wonderful company with wonderful products."

Wanda B., Ontario, Canada
It wasn't until I used the Magnetic Pulser that I saw dramatic change. Thank you very much for producing this near miraculous unit. I am very grateful for it.
G.L., Montana, USA
"I am so grateful to have the Magnetic Pulser to help … my family. Thank you very much SOTA!!!"
H.F., Texas, USA
My Magnetic Pulser is one of the most important pieces of equipment I own. I use it for so many [things] it would be impossible to replace it with something else.
Chuck W., California, USA
I have loaned my Magnetic Pulser out to others many dozens of times. I believe in it 100 percent!
Elaine M., British Columbia, Canada
"The Magnetic Pulser I purchased some time ago, and Silver Pulser are still in use. The quality is excellent. They have helped many people."

Alexander McAllister, Brazil
"My 15 year old lab has a daily treatment with the Magnetic Pulser. It helps her to relax as well as providing comfort. Thank you for this amazing unit."
Irene A., Queensland, Australia
I'm really impressed with how well this [Magnetic Pulser] is made. It's not just made to pulse… it's made to last! How can you make them any better?!! [Your products are] awesome wellness tools as well.
Brent K., Alberta, Canada
"My dietary changes helped but it was the Magnetic Pulser that really turned it around for me. …Within days of using the Pulser, I noticed a difference."
Eve Matot, Colorado, USA
How to compare similar products to the SOTA Magnetic Pulser PDF:
Magnetic Pulser Comparison PDF
Magnetic Pulser user Manuals:
manual_magnetic_pulser_mp6_french
manual_magnetic_pulser_mp6_spanish
Magnetic Pulser Trouble Shooting Guide
troubleshooting_magnetic_pulser_mp5
troubleshooting_magnetic_pulser_mp6